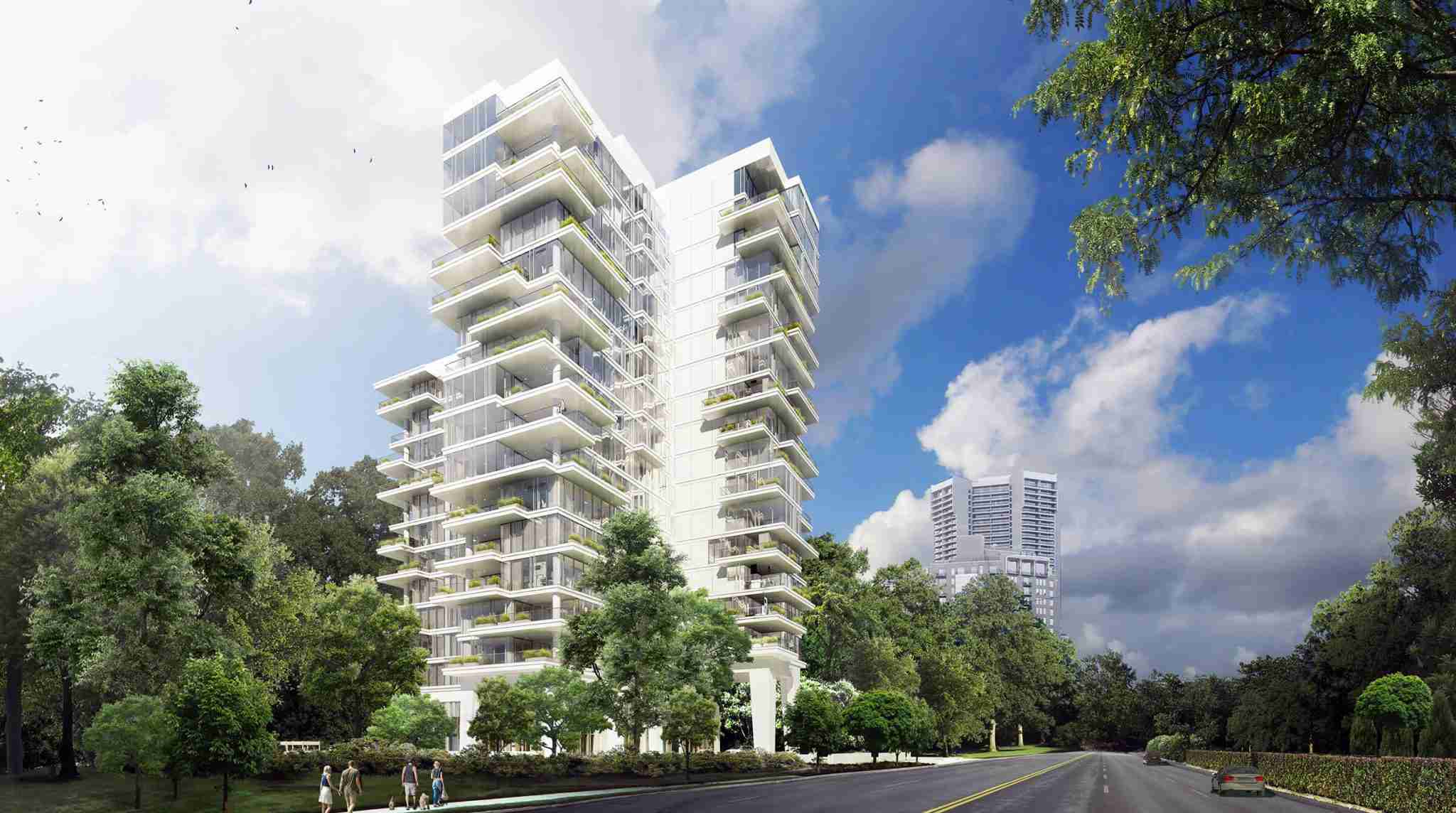 The Emerson unfolds "the architecture of anticipation" in Buckhead. An inspired triple-tower ascends 19 stories to reveal the ultimate luxury Atlanta high rise. Developers seek to offer distinction. The poetic style appears in glimmering terraced edifices, boutique amenities, and lush landscapes.
Artful elegance at The Emerson contrasts with faraway vistas. Expansive terraces, glass walls, spacious open rooms, and timeless décor marry in The Emerson's three magnificent towers. Private elevators open into each of the 44 residences. Prices begin at $1.8 million.
Amenities welcome residents home to pampering at The Emerson. First are the vaulted porte cochere and valet, security, full service lobby, access-controlled parking, and private elevators. Then the beautiful community room, meeting facilities, and guest lodging. Private dining parties can be arranged using a fully equipped chef's kitchen. Add the state-of-the-art fitness and yoga center for a healthy lifestyle.
Step outside to the awesome sundeck and heated lap pool. Here you will lounge in the private cabana or stroll through the verdant landscapes and Zen garden. Walk the dog or bring friends out to grill.
A quiet retreat, the distinctive address is 2520 Peachtree Rd NE, Atlanta, GA 30305. The Emerson's fortuitous location offers easy access to premier shopping, dining, and entertainment in Atlanta. Buckhead lies along the I-400 corridor in North Atlanta between I-75 and I-85. MARTA conveniently breezes in and out of Buckhead Village on the way to Hartsfield-Atlanta International Airport.
CURRENT ACTIVE LISTINGS:
[optima_express_toppicks id="665989″ sortBy="pd" resultsPerPage="9″ header="true" includeMap="true" status="active"]
MARKET REPORT:
[optima_express_market_report id="665989″ header="true" columns="2″]
LISTING ALERTS SIGNUP! GET NOTIFIED AUTOMATICALLY AS SOON AS A NEW LISTINGS AT EMERSON COMES ON THE MARKET:
[optima_express_campaign_signup id="665989″ reportType="listing"]